December 2021 /
It was 1959 and Nat King, Roland Wallace and I had just won Boys' Club of New York Blue Jackets, satin symbols of years-long battles in the trenches of the Lower East Side against other, equally ambitious 15-year-olds, especially the very tough Jewish kids from the Boy's Brotherhood Republic. Along with the jackets came an evening with one-time welterweight boxing champion, Barney Ross. We had no idea who Barney Ross was. But the PR guy at the Boys' Club had wrangled a commitment from Ross's people to take some under-privileged kids to dinner and a Yankee game.
There was some spiritual connection though. Barney Ross was born in New York City in 1909. His real name was DovBer Rasofsky. His father was a rabbi and a shopkeeper who moved the family to Chicago where they landed in the heart of the Jewish ghetto on Maxwell Street. Life there for Ross paralleled what the three of us had experienced on the Lower East Side. Although life was tough on the streets, Ross followed his father's advice to "let the atheists be the fighters" and Ross to be the scholar-Ross's goal was to become a Talmudic scholar like his father.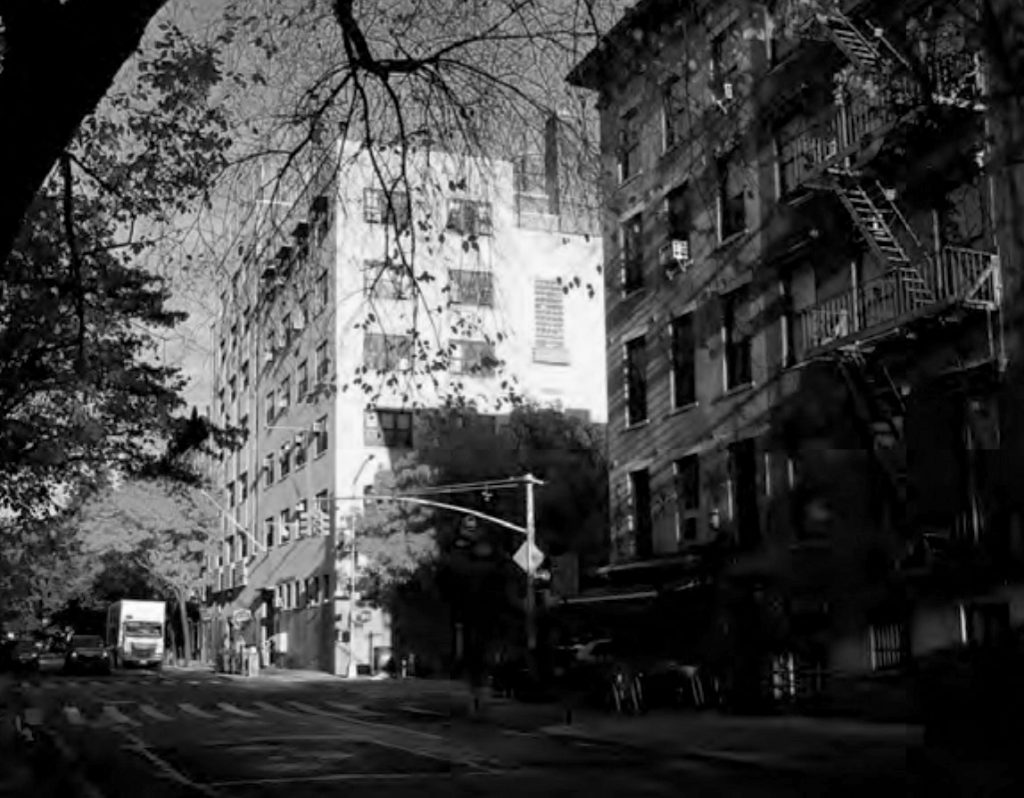 The Boys' Club building on 10th and A in New York's East Village.
The deal that day was the three of us were supposed to meet Ross at the Heidelberg Restaurant in Yorkville in Manhattan. We took the IRT from Union Square to 86th Street and walked down to Second Avenue flaunting our jackets. King and Wallace were both African American with my whiteness sticking out between them like the filling of an Oreo cookie. Then, we came upon Ross. He was about 50 and had a very slender build. His speech was slurred and the three of us recognized the all too familiar twitchings of a former drug addict. Ross became addicted to morphine while being treated in a military hospital for malaria during World War II. His publicist later said Ross had kicked the habit and Ross even became an anti-drug spokesperson, lecturing throughout U.S. high schools on the dangers and evils of drugs. But we knew better. We could see he was still using. The elderly German waiter practically threw the menus at King and Wallace who were probably the only Black customers in the history of the restaurant. He shot me a look which would have even made Hitler blanch.
Ross said he just wanted coffee but urged us to tuck-in-music to the ears of three always hungry fight club hustlers. We got back at the Nazi wannabe waiter by consuming 30 pounds of Wienerschnitzel each, trying to give him a hernia in the process. On the cab ride to Yankee Stadium Ross just kept snapping his fingers and mumbling to himself. Ross had PTSD before there was even a name for it. When Ross was 13 his father was murdered, shot dead resisting a robbery in his store. His mother had a nervous breakdown and his siblings were put into orphanages. Ross lived on his wits on the streets, eventually ecoming a pal of the young Jack Ruby who later gained fame as Os- wald's executioner. Forgetting the lessons of the Talmud Ross took up boxing to earn money to reunite his family. Ross entered and won the Chicago Golden Gloves and then 200 amateur fights before turning pro in 1929.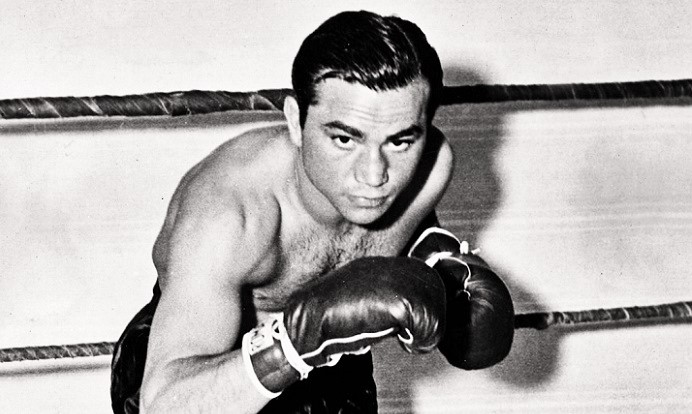 The Great Barney Ross.
Ross asked King if he boxed. We all did but King was the toughest and had won New York City's Golden Gloves. But Wallace and I were way too soft to deliver the killer punches required in the boxing game. King's father sold nickel bags of heroin in Tompkins Square Park. Wallace's father liked leggy women and Pabst Blue Ribbon in any order. And then we have my father. Charlie aka Lithuanian Lightning. There should be a picture of him in the dictionary as the definition of a playboy boxer. Ross was known as the "Pride of the Ghetto." I remember being 6-years-old and it being midnight on a freezing day in February and my mother dragging me out of bed and into Ruane's Bar on 14th Street right next to the Jefferson movie house. Inside the bar everything is blurry because I used to get pink eye at least once a week. My mother has high-jacked me here to get Charlie's pay so we can pay the rent. A peroxide bartender with enormous breasts is twirling them at Charlie as he peels off a twenty and tells her drinks are on the house and to give me a coke. My mother sobs as more of the rent money winds up in the blonde's brassiere. My mother cradles my head in her hands and pleads with my father to come home and not spend any more money – she lies that I need an eye operation. But Charlie buys another round and on the way home my moth-er smacks me in the head for not appearing more pathetic to Charlie. So now I have pink eye and a headache. My mother was Irish and used to miserable childhoods. Worse than the ordinary miserable childhood is the miserable Irish childhood, and worse yet is the miserable Irish Catholic childhood.
We arrive at Yankee Stadium and everyone knows Barney Ross. The seats are in a field box right behind third base. Yankee third baseman Andy Carey comes over and gives each of an autographed baseball. Heady stuff for a couple of slum kids. Ross tells Carey we are boxers not ball players, giving us the benefit of the doubt. Ross went on to win a series of bouts and in 1933 outpointed Tony Canzoneri for the lightweight title. Ross's last fight was in 1938 where he lost by decision to Henry Armstrong after 15 rounds. After the Pearl Harbor attack, Ross enlisted in the Marines at age 34 and saw action at Guadalcanal where his unbelievable heroism earned him a Purple Heart and a Silver Star for taking out a company of Japanese soldiers. Ross then worked tirelessly for the emerging State of Israel. Seeking donations from his underworld friends to buy and smuggle weap- ons into Israel. He also tried to create a corp. of American Jewish war veterans to send to Palestine to fight but this was blocked by the State Department.
Ross died of cancer when he was 57 years old-7 years after our meeting. Ross and King and Wallace are all gone now. and I'm still bobbing and weaving to duck the COVID Ten Count, Who knows? Maybe when we're all finally together and standing before that Great Referee in the Sky, we can swap our boxing gloves for harps. But we know for sure that the Referee is not going to be bending an old Golden Rule for any of us.
Ron Spurga
United Metro Energy Corporation
P: 718-389-5800 ext. 191
ron@umecny.com