Banker Ron Spurga honors her with a gift to her alma mater
As appeared in Long Island Jewish World – December 23-29, 2022 /
By AUSTIN FENNER
The bright spirit of Hanukkah giving came early this year when more than 150 people gathered at Hunter College in Man­hattan to celebrate the opening of The Marie Colwell Memorial Terrace at the school's Leon and Toby Cooper­man Library. The terrace was funded by a $1 million donation by Colwell 's husband, Ron Spurga, in honor of his late wife, a Hunter graduate who died early this year after a brave battle with ovarian cancer.
An oasis in the sky, the Marie Col­well Memorial Terrace rises above the hustle and bustle of the cacophony of Lexington Avenue.
The eighth-floor library terrace offers a magnificent view of the Chrysler Building, the Empire State Building, and the skyline of Long Is­land City. The shaded area of its Per­gola-styled outdoor gardens, where a network of vines crisscrosses a lattice of support beams, offer opportunities for students and faculty to chat, eat or inhale some fresh air.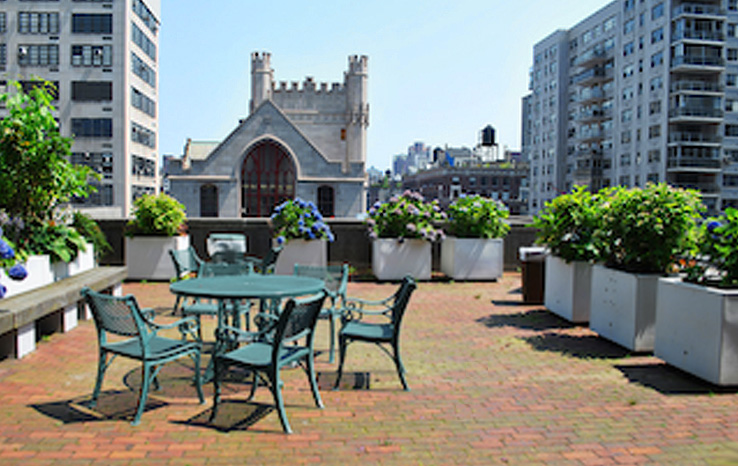 After Marie Colwell worked at Irving Trust Bank with her husband, whom she met there, she caught the acting bug and pursued a career on the silver screen before becoming a social worker.
"She landed a role in 'Cadillac Man,'" Spurga proudly said. "She played a cop with Robin Williams."
Spurga said she also had a part in the film "Moonstruck" with Nicholas Cage, in which where she portrayed a friend Hollywood legend Cher's character in the Oscar-winning romantic comedy.
Colwell played an office manager in the Steve Martin comedy "Planes, Trains and Automobiles," and had a role as a student in the Bill Murray blockbuster "Ghostbusters."
She later hosted "The Marie Colwell Show" on Tune Warner Cable.
Then, in a dramatic career shift, Marie became a public health advocate. She earned two master's degrees – one from Columbia Teachers College and the other from Fordham University – and embarked on a successful career in social work. She worked at the Institute for Contemporary Psychotherapy and at Washington Square Institute, and as an addiction counselor at the New York Council on Problem Gambling.
Ron Spurga's devotion to his wife's memory was cemented after decades together building lovely moments that tied them as one.
Ron Spurga, who memorialized Marie, his beloved wife, with the library terrace, is a self-made man and classic New York success story. He grew up poor in the Lower East Side of the 1940s and went on to become a successful investment banker, financial analyst, and author of a series of books on wealth management and investing techniques.
In a tribute to his wife earlier this year, Spurga wrote in the Long Island Jewish World, "Marie was my sunshine and my light."
Overcome by emotion at the terrace ribbon-cutting ceremony, Spurga told the audience: "I'm overwhelmed by the spectacle and Marie would have been too."
Soon after Spurga and Marie married in the 1970s, he said the Human Resources Department at Irving Trust demanded that she take his surname.
"They said, 'if you don't change your name, we are not going to pay you,"' recalled Spurga. "She said, 'if you don't pay me, I'm going to sue you.'"
Eventually, the bankers capitulated to Colwell as she stressed how she couldn't separate all the hard work she'd done from the name she bore so proudly. "I think what she exemplified most was tenacity and resilience," said Spurga.
He remembered that his wife was fond of a quote uttered by Shirley Chisolm, the late Brooklyn Congresswoman who in 1972 became the first African American woman to run for president of the United States. The quote: "If they don't give you a seat at the table, bring your own folding chair."
"This is the kind of person Marie was," said Spurga.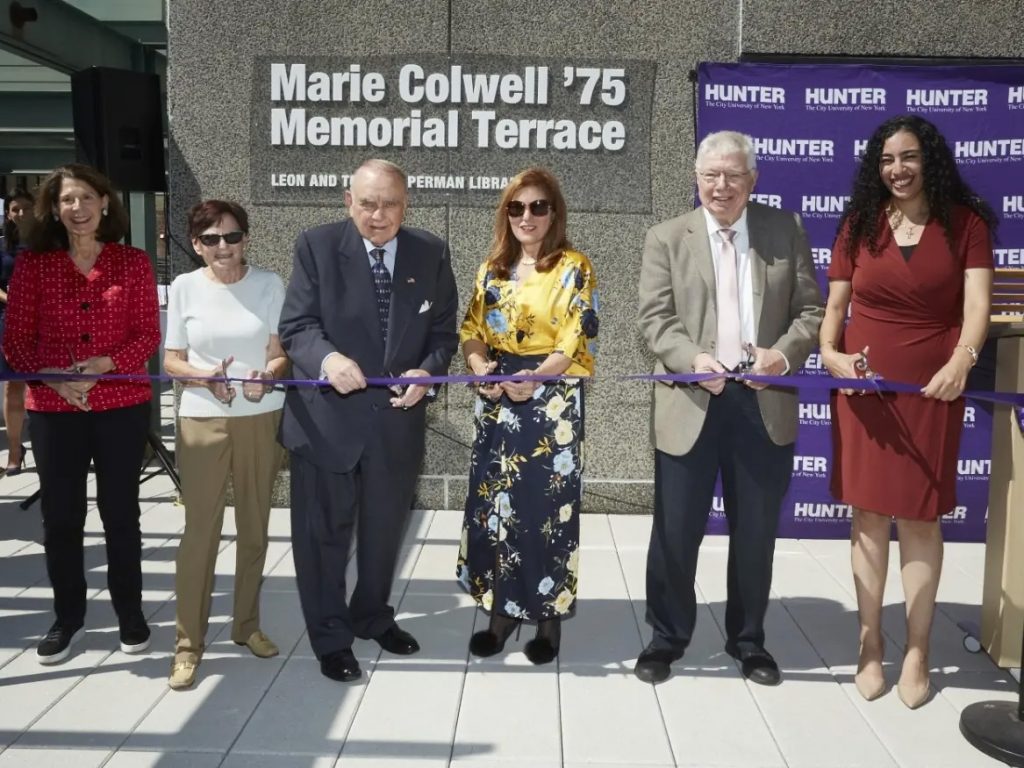 Pre-med student Yostina Girgis, who spoke on behalf of the student body at the ribbon-cutting ceremony, said:
"I want to thank… everyone who made this possible, especially Mr. Spurga. We really appreciate your gift to the Hunter students in honor of your wife Marie Colwell. The outdoor space means so much to our students. It was a pleasure hearing about her.
"Her story is like that of many Hunter students. They rise above it all and persevere," added Girgis.
She concluded her speech with the Hunter College motto, Mihi Cura Futurim, which in Latin means "The care of the future is mine."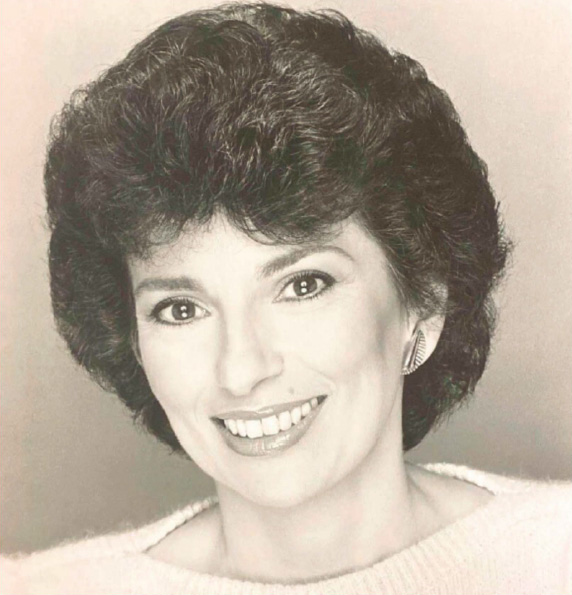 Undergraduate student Albert Saad lll, a Yeshiva of Flatbush graduate, thanked the Cooperman family, who donated the funds for the new Leon and Toby Cooperman Library at Hunter, a $45 million state-of-the-art facility that features spacious lounges, LED lighting and networked comput­er classrooms and labs. The library also has special accommodations for students with disabilities.
Saad told the crowd that the Cooperman business fellowship at Hunter provided him not only with the confidence to study business but with contacts that helped him land a job at a major hedge fund.
Spurga's donations to Hunter during the fiscal year 2022 has helped the college's foundation raise an as­tounding $29 million.
"Gifts from generous benefactors play a tremendous role in helping make the American Dream come true for students at Hunter," said the college's president, Jennifer J. Raab. "We couldn't be more thankful for the support of patrons of the college like Ron Spurga."
It's been a great year for Hunter on that score. Leonard Lauder, chairman emeritus of Estee Lauder, donated $52 million to the college's nursing school in honor of his late wife, Evelyn, a Hunter graduate.
The Lauder gift will help the nursing school educate more professionals who will commit to work in underserved communities in New York City.
'Together," Raab said, "utilizing the more than $500 million raised from donors since 2001, we have created or modernized many other facilities that will continue to serve our Hunter community well into the future, and invested millions in scholarships and internship support to level the playing field for our extraordinary immigrant and first-generation college students."
An oasis in the sky, the Marie Colwell Memorial Tenace rises above the hustle and bustle of the cacophony of Lexington Avenue.
Spurga continues to keep his wife's memory alive by donating to other causes as well. At a ceremony he attended in November at St. Jean Baptiste High School in Manhattan, he donated $100,000.00. "We will be giving out scholarships in Marie's name," said Spurga.
"I had the privilege and the pleasure of knowing Marie Colwell, a beautiful and dynamic woman, who was honored by the 104-year-old Seneca club of Kings County," said Steven Cohn, an attorney and vice chair of the New York State Democrats. "We were honored to give her an award a few years ago [for her advocacy work in mental health], which we know she cherished. The things [Spurga's] doing out of his deep and emotional love for her to manifest her legacy and have the terrace named after her at Hunter College and [other] places that meant so much to her serves as a great testament to Marie."
Colwell worked closely with Ron Taffel, Ph. D, and chair of the Institute for Contemporary Psychotherapy.
"Marie was a licensed social worker and a graduate of the Institute for Contemporary Psychotherapy where we knew her well. With this donation to Hunter College," said Taffel, "Ron Spurga has honored his beloved wife Marie in ways that will profoundly impact New York City. Marie would be thrilled at this expression of her passion for learning and her unabashed desire to help people reach their highest goals."
Spurga is working on making a financial contribution to a Broadway theater in Times Square that will be renamed after his wife. "It will be a lasting tribute, as long as there's a Manhattan," declining to name the theater because the details have yet to be finalized.
Spurga's devotion to his wife's memory was cemented after decades together building lovely moments that tied them as one. "In life, the most important thing is loyalty," said Spurga. "She was a thousand percent loyal. She had integrity."
Austin Fenner is a journalist whose work has appeared in "The New York Post," "The Daily News" and other media outlets.